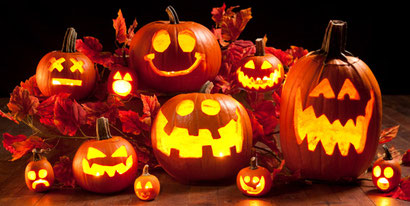 On the night of October 31st, some people around the world, mainly in United States and Canada, celebrate Halloween.
Children wear costumes and go to peoples' homes saying "Trick or treat!" (understood here as "Give me a treat or I will play a trick on you").
This, is what you may know !
But did you know that originally Halloween was an English and Christian celebration ?
That it was simply All Hallows' Eve, also called All Saints' Day or "La veillée de la Toussaint" in French ?

Nowadays and despite their common origin, La Toussaint and Halloween remain two different celebrations !
What do we celebrate in France ?
Spontaneously the French will say that it is La Toussaint, All Hallows' Eve. Why ?
Certainly because this feast is a day off on our calendar on the first day of November. How a French could forget a work-free day ?!
They will also say that La Toussaint is a traditional and religious celebration, while Halloween is only a commercial one.
This is not totally wrong, but do not put all the regions in the same basket !
Indeed, if Halloween invaded France in the late 90's, a similar festival already existed in Brittany and Lorraine. On the eve of All Saints' Day, children dig faces in Beets for candles. These natural lanterns are then placed on the edges of the Windows to scare passers-by.

Thanks to advertising, American movies and probably "novelty effect", Halloween has worked well in France with children and young adults until 2005.
Nevertheless, for the past ten years or so, shop windows have become less and less Orange and black during the Halloween period.
Some children still benefit to dress up and eat candy, some teenagers and young adults see this feast as an additional opportunity to get together and have fun. But, adults don't hang at all at this party too far from French culture.
French culture is La Toussaint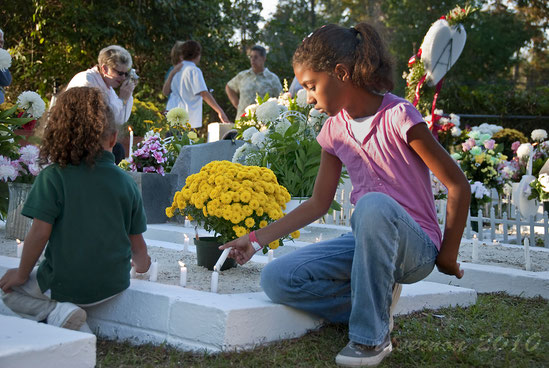 All Saints' Day, la Toussaint, is a Catholic feast during which all the known and unknown saints are celebrated.
In the Catholic religion, on November 2 there is the commemoration of the faithful deceased, also known as "The Feast of the Dead".
During this festival, the tombs of the deceased are decorated with flowers. The chosen flowers are the autumn chrysanthemums. Chrysanthemums have replaced candles since the mid-19th century. This substitution would come from the tradition of flourishing the graves of the soldiers of the First World War on November 11th.
Tradition which, little by little, would have moved on November 2nd.
Unfortunately, November 2 being not a holiday, the French have become accustomed to celebrate their dead on All Saints Day, La Toussaint.