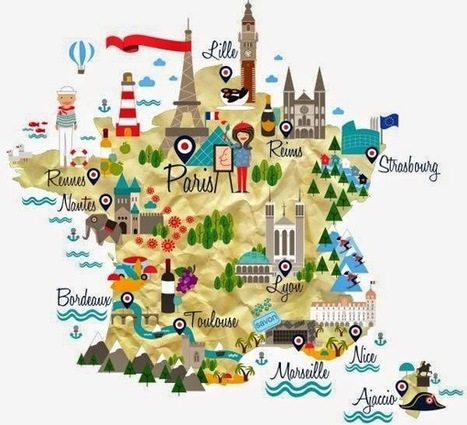 The importance of the French language and the benefits of learning it are undeniable. Together with other languages such as English, Mandarin Chinese or Spanish, French is one of the most widely spoken languages on the planet.
If you are learning French, spending some time in a city where French is spoken will drastically boost your knowledge, especially when it comes to understanding the spoken language and gaining confidence in your ability to speak.
Instead of just using English to speak to foreigners, even in the biggest cities in France, people are understandably keen on speaking in their own language. This means that if you move to France for a while, you will achieve a true immersion and will be pushed out of your comfort zone.
In this article I present you 5 of the main cities in the country and the reasons that make them a good place to improve your knowledge of the French language. 
Additionally, if you wish to learn French elsewhere, there are also other places you could visit all around the globe, such as: Brussels in Belgium, Geneva in Switzerland, Quebec in Canada, Dakar in Senegal, the Caribbean island of Guadeloupe or Reunion, a small island in the Indian Ocean.
1. Bordeaux
Region : Nouvelle Aquitaine

Situation : Southwest

Population : 241 287 people 
For all the devout wine appreciators out there, Bordeaux requires no introduction. The wine economy in this region rakes in over 14 billion euros each year. Bordeaux might not be a very big city, but its universities have a high reputation and it's well known for being very welcoming to visitors and immigrants. This picturesque town is also famous for its gastronomy, so it would be the perfect destination for wine and food lovers. What could be better than practicing your conversation skills whilst enjoying a delicious glass of red Bordeaux?
Besides the inevitable wine tastings/winery tours, the city of Bordeaux itself is absolutely incredible, with a buzzing food scene, beautiful architecture and the Miroir d'Eau (pictured below), which is the world's largest reflective pool, and an awesome sight to photograph.
2. Lyon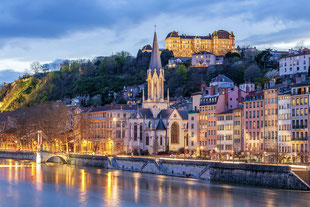 Region : Auvergne-Rhône-Alpes

Situation : East

Population : 500 715 people
Those who want the advantages of Paris at a lower price make a good choice in Lyon. This city in the east of France is considered the capital of gastronomy (which is quite an achievement in a country so famous for the quality of their food), so not only will you have the chance to fill your brain but also your stomach. In the last few years the number of students in Lyon has increased a lot, which means you will be able to enjoy a young atmosphere and many entertainment options all year around.
3. Lille
Region : Hauts-de-France

Situation : North

Population : 232 741 people
Located in France's northern region, Lille has earned the distinction of being home to the country's most cheerful people. That might have something to do with its unbeatable location, which grants residents access to Brussels in 35 minutes, Paris in an hour, and London in under an hour and a half.

Lille is an active, dynamic cultural center, with museums, galeries, concerts of all styles, theater, and more. A Flemish-style city in France, Lille has a considerable wealth of historic architecture. While you're there, don't miss "La Grande braderie de Lille", the largest flea market in Europe. Whether you're a bargain hunting magpie, foodie, or cultural junkie, "La Grande Braderie de Lille" is a friendly and festive event that celebrates the culture of Lille, food, and people.
With a vibrant culture and an extraordinary architecture, it's no surprise that more international students are discovering this oft-overlooked destination. 
4. Marseille
Region : Provence-Alpes-Côte d'Azur

Situation : Southeast

Population : 852 516 people
Marseille is the second largest city in France after Paris and it's a true Mediterranean gem which boasts of a sun kissed coastline. Its lovely environment and its pleasant climate make this city very popular among tourists, immigrants and international students, which results in a colorful society with people from all over the world. Near Marseille you will also find the charming cities of Aix-en-Provence and Toulon.
5. Paris
Region : Ile-de-France

Situation : Northeast

Population : 2 229 621 people

 
Last but not least : Paris 
Paris is the capital of France and one of the most important cities in the world.
If you visit Paris, you will soon understand why it's dubbed "The city of light" and "The city of love", as the charms Paris has to offer are unique and make almost everyone who visits it fall in love.
Paris is an international metropolis with a great cross-cultural environment and the possibilities for learning French in Paris are very broad. Equally huge is the variety of cultural and leisure activities that you will be able to enjoy.
On the downside, in comparison with other French cities, Paris might be an expensive destination to travel to.
Learn French with me...
...and get ready to discover France !
If you are planning to move to France for a while, whether to live or to study, you can brush up your French beforehand following one of my online French courses. As a native speaker, I will teach you the way French is spoken in real life, not only in textbooks.
Likewise, if you are already living in a French speaking country and need to improve your level, you can benefit from the flexibility of my courses. I offer classes every day and at any time, so you can learn at your own pace and design a schedule according to your lifestyle.
Finally, if you are back home after living in France and wish to keep improving your knowledge in a way that doesn't interfere with your already busy everyday routine, Apprendre-Francais.com is the perfect solution for you !